Discover more from The Pitch of Discontent
A weekly newsletter and podcast focused on alternative music. Vibing anything post-hardcore-punk-metal adjacent.
Wayback Machine: Remembering Gared O'Donnell
One year on. Thunder in the night forever.
Gared O'Donnell was the vocalist, guitarist, and founding member of American Midwest post-hardcore outfit Planes Mistaken For Stars. During the band's twenty-year career, O'Donnell performed on four full-length albums, five EPs, and three compilation albums.
On November 25th, 2021, O'Donnell passed away at the age of 44 after years of struggling with treatment for stage III esophageal cancer. In this edition of Wayback Machine, you'll find a listener's guide to O'Donnell's musical career and artistic legacy.
RIP Gared. Thunder in the night forever <3
---
"Copper and Stars" — S/T EP (1998)
Planes Mistaken For Stars formed in Peoria, Illinois, in 1997 and originally consisted of O'Donnell as lead vocalist/guitarist, bassist Aaron Wise, guitarist Matt Bellinger, and drummer Mike Ricketts.
Their debut self-titled EP was originally self-released in 1998 and, after signing to Deep Elm Records, was later reissued the following year. Speaking about their association with being originally classified as an "emo" band, O'Donnell says:
"That's what everybody wanted us to do. That's one of the reasons we didn't do it. Also, it would've been too fucking easy and we're all stubborn. And then Jamie [Drier] joined the band and we gravitated to our common interests, and Jamie is into more darker shit."
As Dan Ozzi, writer of
and author of
Sellout
(2021)
, puts it:
"If there's one thing no one can accuse Planes Mistaken For Stars of, it's pandering. For better or worse, the on-again, off-again band has done things their own way over their 23 years together. With their wholly unique style of mean and scuzzy rock, they've occupied their own darkened corner within the worlds of punk, emo, and hardcore; despite the fact that they don't sound like any of their peers, they don't look like any of their peers, and they've avoided trends at all costs."
O'Donnell's Overall Album Ranking: #4
"Staggerswallowswell" — The Appleseed Cast / Planes Mistaken For Stars / Race Car Riot Split EP (1999)
Wise eventually left the band and was replaced by bassist Jamie Drier, who had previously played in the band Dismiss with O'Donnell and Bellinger.
Planes then moved to Denver, Colorado, eventually appearing on a three-way split EP with Deep Elm labelmates The Appleseed Cast from Lawrence, Kansas and Race Car Riot from Houston, Texas.
"Scratching Rounds" — Knife in the Marathon EP (2000)
Next came the band's Knife in the Marathon EP, showcasing a more intense, hardcore-tinged sound. "Listening to that record, there's no fat on it," says O'Donnell.
"It's unmitigated fucking rage, but it's not a hardcore record. There's no empty sloganeering. It's broken-hearted, it's about growing up, and that's what we were doing. We'd just moved to Denver from Peoria, 13 of us together. We were forging our own path and came into our own, which is why we got so fucking weird."
O'Donnell's Overall Album Ranking: #1
"End Me in Richmond" — Fuck with Fire (2001)
Planes then jumped to Florida indie label No Idea Records in 2001 for the release of their debut full-length album, Fuck with Fire. "When we did the first self-titled record, we'd been working on that for some time and didn't have any expectations," O'Donnell admits. "Up until that point, everyone's bands had just been little high school bands. We didn't know we were going to strike fire. What we did was accidental, and it was kind of magic.... we just wanted it to sound like a cacophony, and it does."
The response was one of fervent acclaim. The Chicago Reader described the record as "Sinister, gravelly, and coated in sheets of sonic raunch," while Decibel called the album an "un-fuck-with-able masterstroke." The A.V. Club wrote that Fuck With Fire "still holds up as one of the most excruciatingly honest, sickeningly sludgy expressions of post-hardcore circa the early 21st century."
O'Donnell's Overall Album Ranking: #6
"Police Story / Wasted" — Black on Black: A Tribute to Black Flag (2002)
In 2002, the band released the Spearheading the Sin Movement EP on No Idea and were featured on the Black on Black: A Tribute to Black Flag alongside hardcore acts like American Nightmare, Coalesce, and The Hope Conspiracy, which was later reissued in 2006.
"Say Not a Word" — Up In Them Guts (2004)
Drier exited the group in 2003 and was replaced by Chuck French on bass. With producer A.J. Mogis (Cursive, Bright Eyes), Planes released the explosive sophomore follow-up LP, Up In Them Guts, in mid-2004. They toured the record relentlessly across the U.S. and Europe, with everyone from Against Me! and Hot Water Music, to the Dillinger Escape Plan and The Ataris.
It's difficult for me to state just how much this album means to me. Not only is it my favourite Planes record, but it's also one of my top albums of all time across any genre. In 2012, on a trip to New York City, I watched Planes reunite and perform tracks from Up In Them Guts. It was everything, and it was glorious.
O'Donnell's Overall Album Ranking: #3
"These Lights" — Late Night Conversations by The Forecast (2005)
"You Burn First" — Crisis by Alexisonfire (2006)
In the period between the second and third Planes records, O'Donnell made guest appearances on two albums: Late Night Conversations, the debut full-length from indie-rock band The Forecast (who hailed from O'Donnell's original stomping ground of Peoria), and Crisis, the third LP from Canadian post-hardcore outfit, Alexisonfire. In both appearances, O'Donnell's gravel-throated register adds texture and dynamics to each band's sonic chemistry.
"Little Death" — Mercy (2006)
Bellinger announced his departure from the band to concentrate full-time on his work with Ghost Buffalo. French moved over to guitar, and new member Neil Keener came in on bass.
For their third studio album, Mercy, Planes turned to former Minus The Bear member and producer Matt Bayles (Botch, Isis, Mastodon), and it would be their last album before their brief hiatus in 2008. After several releases on No Idea Records, the band signed to Abacus Recordings, a short-lived heavy metal imprint of Century Media Records.
O'Donnell's Overall Album Ranking: #2
"I Do Declare" — Year One by Hawks and Doves (2011)
Planes would go through a brief hiatus in 2008 before eventually returning in 2010 for a handful of shows and touring in the early 2010s.
During the hiatus, O'Donnell split with his then-wife and decamped in Gainesville, Florida, to record his solo album Year One with a number of guests, including Chad Darby (As Friends Rust), George Rebelo (Hot Water Music), and Chris Wollard of The Ship Thieves.
"Burns Like a Paper Rose" — Late Love by Wolves Like Us (2011)
Alongside his solo material, O'Donnell also forged a friendship with Norwegian post-hardcore outfit Wolves Like Us, guesting on their debut album, Late Love.
"Fucking Tenderness" — Prey (2016)
In 2015, the label Deathwish Inc. would announce a re-release of Mercy with a cryptic promo video featuring testimonials from several artists on the legacy and importance of Planes. Ryan Patterson from Coliseum and Fotocrime described the band as the "middle ground between The Afghan Whigs and His Hero Is Gone," while Nate Newton of Converge, Doomriders, Cave In, and many more declared Planes to be "that rare breed of band who could combine melody and chaos without it being obvious, like our generation's Hüsker Dü."
For Jeremy Bolm of Touche Amore, Planes "released undeniable records with limited response. To call them underrated would not do that term justice," going on to call Mercy "one of the creepiest records ever captured." Planes then announced that they'd been working on a new album, Prey, and it would be their first in a decade.
O'Donnell's Overall Album Ranking: #5
"Rust on the Gates of Heaven" — Rust on the Gates of Heaven by Wear Your Wounds (2019)
On September 7, 2017, original Planes guitarist Matt Bellinger died at the age of 40.
In 2019, O'Donnell also featured on Rust on the Gates of Heaven, the third LP from Wear Your Wounds, an experimental collective including Jacob Bannon (Converge), Mike McKenzie (The Red Chord), Adam McGrath (Cave In), Sean Martin (Twitching Tongues, ex-Hatebreed), and Chris Maggio (ex-Trap Them, ex-Sleigh Bells).
"Speeding" — Early Aught EP by Blunt Razors (2020)
O'Donnell and Keener then wrote and recorded material during the COVID-19 pandemic, released as the Early Aught EP under the name Blunt Razors.
The EP was a stylistic detour from their work in Planes, with a mix of slowcore and urban folk, anchored at all times by O'Donnell's restrained drawl and folk Americana lyricism.
---
The passing of iconic figures is always a strange feeling. It invites a certain kind of parasocial connection to mourn a version of someone that you never really knew and only ever had an intangible relationship with. O'Donnell's death truly rocked me in a way that's still hard to describe yet is nonetheless palpable for the depth of sadness it continues to evoke.
With that in mind, I'll let his bandmates articulate his legacy better than I can. From their public announcement of O'Donnell's passing: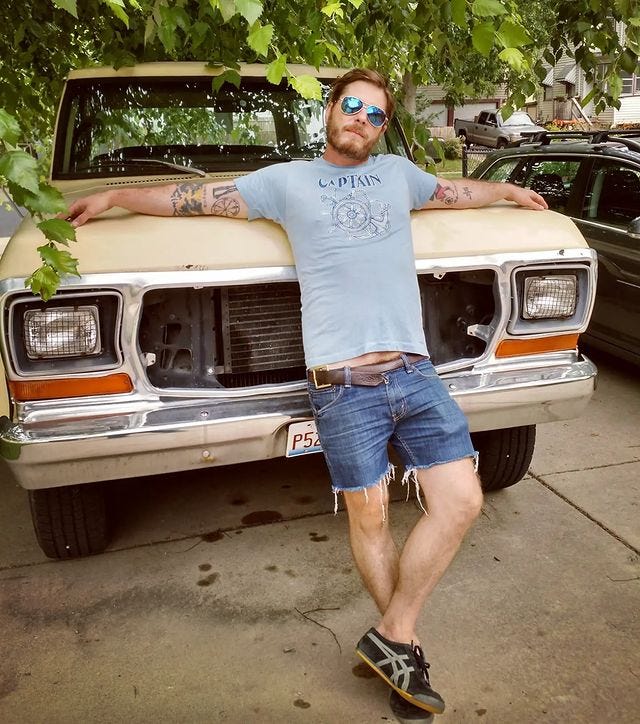 "A titan, a pillar, a beacon, no one that knew him wasn't touched or inspired. The gift he gave us was himself, fully unselfishly pouring his life, love, and soul out to the world so honestly that it hurt. His passion was infectious, drawing us all to him and to each other. The family we have is vast because of Gared. Through the sheer force of his will, he helped to sculpt the reality we all inhabit. His impact on us all will never die."
---
For a more comprehensive deep dive, check out our upcoming Wayback Machine episode on The Pitch of Discontent podcast, where my lovely co-host and I go through select tracks from the Planes discography and across O'Donnell's career. Listen below:
---
You can also find these tracks and more on the TPD // Remembering Gared O'Donnell playlist.